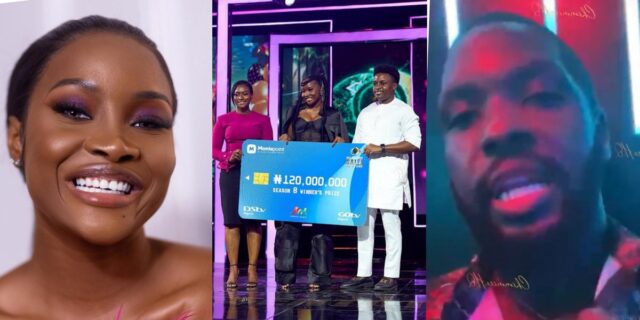 A Nigerian man, identified as Charles of Glitch Africa, revealed on Tuesday how he was treated by Ilebaye, the winner of BBNaija All Stars' ₦120 million grand prize.
Speaking about Ilebaye, he revealed that she was available at their office for an interview but lost her cool as she sped off minutes after shouting at her chaperone due to a little misunderstanding.
His statement: "Ilebaye was outside our office screaming at her chaperone, i halted what i was doing and went outside and before i could get there, she zoomed off without meeting anybody in the production team to know what exactly happened."
"When ilebaye arrived, we had already started filming with pere and adekunle, there was no way we were gonna stop recording for her to join in the middle of a session, so she had to wait for the next session with her and cross."
"120 million can get you anything in life but definitely not character, ilebaye was very disrespectful to all of us today."
Concerned individuals, however, have stormed the comment page of the post to react to the statement made by the said person.
See some reactions below:
@temmie2098: "You go explain tire, you are not the only presenters she az met with. We see how respectful she is even on live to presenters. If you like cry from today till tomorrow your self acclaim winner will forever be known as a runner up and Ilebaye winner of all stars. Clout chaser."
@ShezDharmmi: "Y'all have tagged the disrespect thing on her. That's why everyone is demanding respect. This is something that anyone will do. So stop capping."
@Nwannekaenyioma: "Perfect birthday gift to him. Look at the very condescending manner he's talking. She's not one to be intimidated by the so called OGs."
@thefilmbox1: "Them say money brings out the true character of a human being. Ilebaye don win 120 million, her true character don show. Playing the victim card don end, she don become angry bird."
@UTDTreytips: "I think the issue is that she was paired with Cross for the interview but Cross came late due to a car/driver issues. So the producers proceeded with Pere and Adekunle. They expected her to wait for the next session or at least see the producer or presenter before so they could."
WATCH THE VIDEO BELOW: