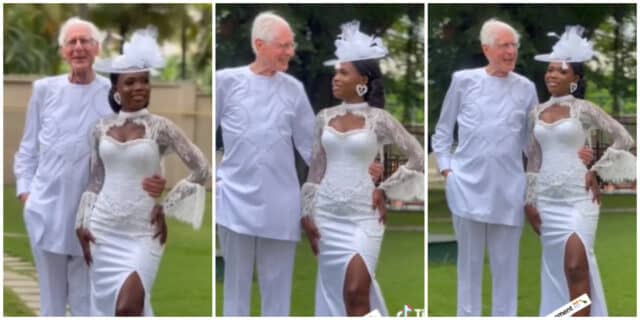 A video featuring lady and her elderly Oyinbo lover has set the internet abuzz, with viewers divided over the perceived age difference between the couple.
The video, which showcases the pair dressed in White African attire, has become a hot topic online.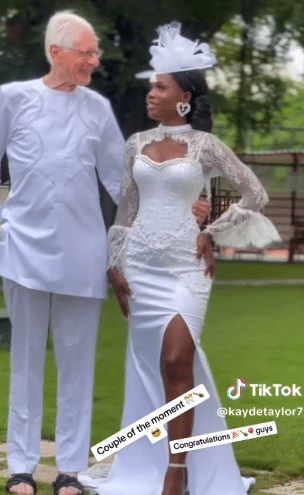 The video has gained significant attention across various social media platforms, drawing both support and criticism.
Many netizens are expressing their opinions on the seemingly substantial age gap between the couple.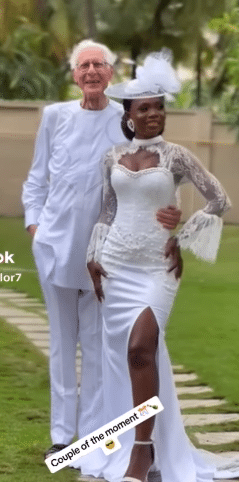 In the video, the African lady and her elderly Oyinbo lover are seen wearing White African attire.
The couple looks to be attending an event or celebration, with their attire drawing praise from some viewers for its unique and striking appearance.
Netizens Reactions…
@yourexcellency said; "Regina Daniel co-worker"
@nandipha,90maseko said; "money is the root of eviel but poverty eeh na evil forest."
@userbettyango said; "No one is talking of groom shoes. anyways, mission accomplished."
@xoxock said; "God i see what you do for others."
@manny_lito4 said; "Go girl, give him the best life he never had."
@queen said; "We are fighting poverty in jesus name"
@chizobafavour said; "Poverty is the enemy"
@miss heelen said; "Which God did it. I want to talk to him."
@red diamond furniture store said; "She's already at his funeral with that hat."
@debbie kapute said; "Regina Daniel way, you get your bag girl, congratulations."
See below;